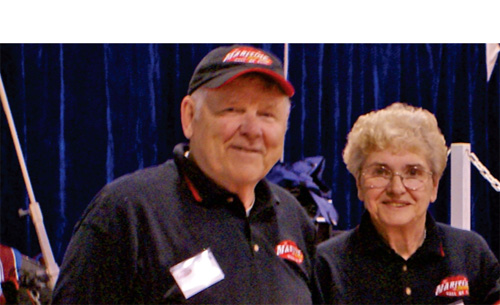 Role at Riverside: Promoter
Ernie and Winona McLean were Riverside Speedway's promoter from 1984 to 1989, while at the same time continuing to own and operate River Glade Speedway in New Brunswick which they had opened in 1964. They had already been married three years when Ernie attended his first stock car race at Ontario's Pinecrest Speedway in 1957. Ernie got "the bug", bought his first race car (from fellow 'Wall of Fame' alumni Jim Hallahan), and started racing.
Before long they moved back to New Brunswick and settled in River Glade. There was no stock car racing in the area so Ernie decided to build a track; it was dirt when it opened in 1964. By 1965 it was paved, with grandstands and outbuildings added; later that year to celebrate River Glade's first anniversary, they staged the inaugural River Glade International. Before long it was attracting some of the biggest names in Canadian motorsports.
The McLean's owned and operated River Glade Speedway for 30 years, hosting many a series and guest driver – including Dale Earnhardt Sr. They also helped operate Miramichi Speedway, Brookside Speedway, and Danny's Speedway.
In 2004 the McLean's took the helm of the Maritime Motorsports Hall of Fame and continue to be the driving force behind it.
Ernie McLean was named Promoter of the Year in 1984; he was inducted to the Canadian Motorsports Hall of Fame in 2000; and Ernie and Winona McLean were inducted to the Maritime Motorsports Hall of Fame in 2010.