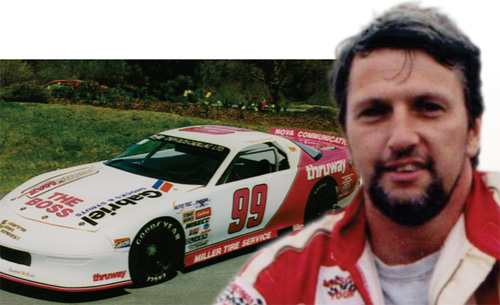 Role at Riverside: Racer
Greg Sewart raced and won at Riverside International Speedway during the 1980s and 1990s. He retired from racing in 2002 after a broken back cut short a 26-year career.
He started racing 1976 at Atlantic Speedway winning the sportsman rookie title and points championship that year, repeating as points champion in 1977.
In 1982 he was the late model champion at Onslow Speedway and in 1983 he joined MASCAR, winning the title in his rookie year. He repeated as the MASCAR champion four more times (1987, 1992, 1993, and 1995) to become the series only five-time champion.
Sewart also claimed some of the biggest race trophies the region had to offer. He is a three-time Moosehead Grand Prix Late Model division winner (1991, 1992, and 1994), a three-time winner of the River Glade International (1983, 1984, 1987), and a two-time winner of the IWK 250 (1986 and 1993), and claimed the checkered flag in the only 300-lap pro stock feature ever held at Scotia Speedworld.
One of the biggest thrills of Sewart's racing career came in a second-place finish at the 1994 edition of the Oxford 250 in Maine; he remains the top finishing Maritime racer (ever) in the hallowed event.
Greg Sewart was inducted to the Maritime Motorsports Hall of Fame in 2010 and Canadian Motorsports Hall of Fame in  2012.