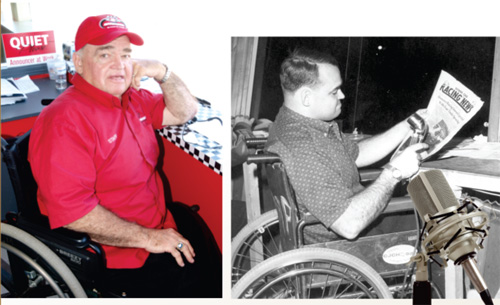 Role at Riverside: Announcer, Promoter
No matter who is in the booth Jerry Lawrence is, and always has been, the voice of Riverside International Speedway; he was there when the track opened in 1969 and you will still sometimes hear his booming voice over the airwaves at the track .
In the late 70s he co-promoted Riverside along with Ron King. He and King are the founders of the annual "250" at Riverside, hosting the first edition in 1977.
He got hooked on racing as a teenager at Sackville Downs Speedway. For five decades he has entertained race fans behind the microphone at numerous tracks in the Maritimes; besides Riverside including Seabreeze Raceway, Drag City, Atlantic Speedway, Onslow Speedway, Scotia Speedworld, Moosehead Speedway, Centre for Speed, and with the MASCAR tour.
He founded the Atlantic Karters Association and has announced at go-kart races for several decades.
Jerry Lawrence was inducted to the Maritime Motorsports Hall of Fame in 2007.