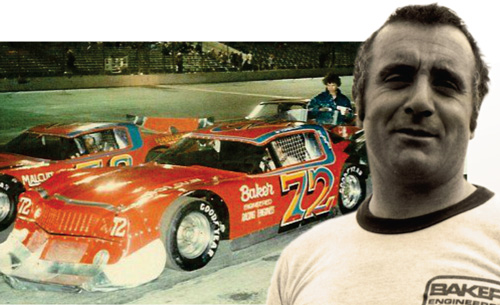 Role at Riverside: Racer
If there is a name that is synonymous with Canadian motorsports throughout North America it is likely Junior Hanley. He raced at Riverside, his favourite track, during the 70s, 80s, and 90s driving modified, late model, and ACT cars.
A native of Port Mouton, Hanley moved to Ontario in the early 70s to pursue a career building and driving race cars. In the six short years since 1965 when started racing in the Maritimes he had won a modified championship as well as the River Glade International. He set up shop (more of a large garage) in Oakville, Ontario and produced some of the finest short track race cars in North America, evident by his elite clientele including Bill Elliott, Alan Kulwicki, Mark Martin, Kyle Petty, Dick Trickle and Darrell Waltrip.
While he built cars Monday to Friday, the weekends were spent driving his race cars, entering big paying special events all over North America. Notable wins include the Copper World Classic (1990, Phoenix AZ), the Oxford 250 (1993), and a two-time winner of the Riverside 250 (1990, 1991). He is a three-time World Series of Asphalt Stock Car Racing champion (1980, 1981, 1990 at Florida's New Smyrna Speedway), three-time ACT champion (1991, 1992, 1993), and the mid-west's Iceman Series champion (2001). He won numerous ASA races in Canada and the mid-west, beating future NASCAR stars like Rusty Wallace and Mark Martin.
Junior Hanley was inducted to the Canadian Motorsports Hall of Fame in 2000, and to the Maritime Motorsports Hall of Fame in 2011.