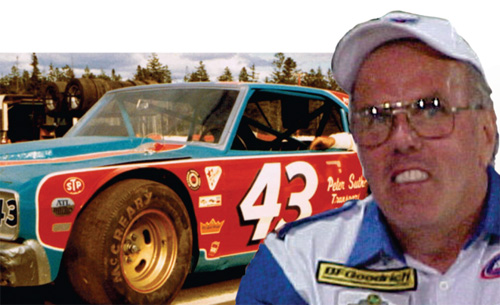 Role at Riverside: Racer, Car Owner
Rollie MacDonald entered the first event held at Riverside Speedway when it opened in 1969; to this day it remains his favourite track. He has likely completed more laps at Riverside than any other driver.
From nearby Pictou, Rollie started racing on the dirt in 1965 at Mountain Raceway. His career grew to become one of the most diverse in the Maritimes, traveling to tracks all over North America as both a driver and a car owner. His longest winning streak – 22 in a row at Atlantic Speedway in 1977 – may very well be a Maritime record; ironically what was one of the high spots of his career ended with one of its lows when the streak ended in one of the worst wrecks in Maritime motorsports history.
In 1984 he won the MASCAR championship; in 1986 he won Quebec's QUASCAR title (and also finished third in MASCAR). In 1994 he ran the NASCAR Busch North Series.
In 1998 he took on the car owner role and joined forces with local hotshoe Scott Fraser. In 1999 they won two races and finished third in the World Series of Asphalt Stock Car Racing; in 2000 they made their ASA debut with an outside pole and eighth-place finish. They ran several more ASA races in 2000 and in 2001 scored four top 10s in 13 starts.
MacDonald returned to the driver's seat after Fraser's death in 2004, and in 2005 won the Parts for Trucks Pro Stock Tour title.
Rollie MacDonald was inducted to the Canadian Motorsports Hall of Fame in 2005, and to the Maritime Motorsports Hall of Fame in 2009.
In 2019, MacDonald's team, King Racing, won the IWK 250 with Cassius Clark at the wheel.