The NASCAR Pinty's Series will make a stop at Riverside International Speedway for the Bumper to Bumper 300 on Saturday. The race will mark the first and only visit to the third-mile this season, and comes in the middle of the stretch run for the title.
---
WHAT TO WATCH FOR:
Fresh off his first NASCAR Pinty's Series win of the season at GP3R, Alex Tagliani will look to continue his climb towards the top of the championship standings in the Bumper to Bumper 300 at Riverside. Tagliani is third in the points chase, just 11 points from the top, but has yet to score a victory at Riverside. In his two previous starts, Tagliani finished ninth and sixth.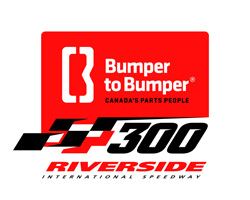 Even though L.P. Dumoulin didn't score the victory at GP3R, a second-place finish was exactly what he needed to hold his advantage in the championship standings at double-digits. The Trois-Rivieres, Quebec, driver scored his third straight podium with a second at his home track, and if he wants to open his gap, he will need to turn his luck around at .333-mile oval. In seven previous starts, Dumoulin has failed to finish inside the top-10 in four of them.
In 11 previous NASCAR Pinty's Series events at Riverside, only two drivers have been to Victory Lane more than once. The last six races have seen six different drivers hold the checkered flag. Following the Bumper to Bumper 300, only four races remain in the championship battle.
RACING-REFERENCE: Previous Pinty's Series races at Riverside | Pinty's Series drivers' career stats at Riverside 
RACE FACTS
RACE
BUMPER TO BUMPER 300
PLACE
Riverside International Speedway, Antigonish, Nova Scotia
DATE
Saturday, Aug. 18
TIME
8 p.m. AT
TELEVISION
Saturday, Aug.2, 1:30 p.m., TSN2; Tuesday, Sept. 11, 10:30 p.m., RDS2
TRACK LAYOUT
.333-mile paved asphalt oval
2017 WINNER
Alex Labbe
2017 POLE
D.J. Kennington
EVENT SCHEDULE
Saturday — Garage Opens: 10 a.m., Practice: 12:30-1:40 p.m., Group Qualifying: 3-3:30 p.m., Bumper to Bumper 300: 8 p.m. (approx.)
TWITTER
@NASCARPintys, 

@Riverside_NS

HASHTAG
#NASCARPintys, #BumperToBumper300
CREW CHIEF HANDOUT: The maximum starting field for the event is 24 cars, including provisionals.
The first 21 cars will secure starting positions for the Bumper to Bumper 300 based on the qualifying session. The remaining five spots would be awarded through the provisional process.
NASCAR Group Qualifying is in place for this event. Qualifying order will be determined through by each vehicle's fastest single lap from official the practice session. Each qualifying session will be five (5) minutes in length and the fastest single lap speed of each vehicle will determine starting positions. Vehicles may not return to the track or make any further qualifying laps unless directed to do so by NASCAR Officials or in the event of a caution flag. If a vehicle returns to pit road, the vehicle's qualifying effort is complete. Vehicles will proceed immediately to impound after qualifying. Vehicles must qualify on their race setup.
The Bumper to Bumper 300 will be 300 laps (99.99 miles). It will be run in three (3) segments. The five (5) minute breaks will occur at or near the conclusion of laps 75 and 225.
Once pit road is open, vehicles electing to pit may enter pit road. No work is to be performed at the break until advised by NASCAR Officials. A maximum of five (5) uniformed crew members in the vehicle servicing area. At the end of the breaks, vehicles will line up with lead lap cars to the front. Lead lap vehicles that elected to pit will line up behind the lead lap vehicles that elected not to pit in order of running. The four (4) tires can only be installed during the break. All teams must fuel their vehicle before changing tires.
The maximum tire allotment available for this event is as follows: One (1) tire for practice, four (4) tires for qualifying and to begin the race, and four (4) additional tires for use during the race for a total of nine (9) tires.
---
source – NASCAR communications