JAMES RIVER, NS – Management at Riverside International Speedway are pleased to announce that, for the third straight year, they are working together with MADD, Antigonish Crime Prevention, and regional RCMP on June 14 at the Ron MacGillivray 150 to help educate students on how to enjoy and a safe and happy graduation.

"We are so pleased to be involved in this community initiative," said Paul McLean, general manager for Riverside International Speedway. "Growing up healthy and happy is all about making good choices so we're hoping that by hosting this event and making learning fun we have a positive influence on the lives of teenagers, especially those who are preparing for graduation – a landmark life event with memories that last a lifetime."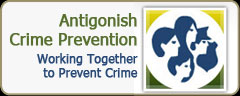 Free admission tickets for the Ron MacGillivray 150 will be distributed over the next week to all schools in the Antigonish and Port Hawksbury areas, compliments of local radio stations 98.9 xFM and 101.5 The Hawk, respectively. The tickets can be used by any student between eight and 18 years old.
While on-site students and their parents will have the chance to visit with representatives from MADD, from Antigonish Crime Prevention, and members of the RCMP. In addition, 10 lucky students will ride around the track in an RCMP cruiser during intermission (ballots will be available at the track).

The Ron MacGillivray 150 is the season opener for the 2014 season at Riverside and will feature the Parts for Trucks Pro Stock Tour along with support class action by the Napa Sportsman Series in the Highland Building Centres 50. Pro stock time trials will start at 5:10 and racing starts at 6 p.m. Advance tickets are now available at www.riversidespeedway.ca or by calling 902.863.2410.
Riverside International Speedway is recognized as a premier stock racing facility in Canada. The 1/3-mile high banked asphalt oval roars to action several times a year for special events. It is the home for eastern Canada's only NASCAR event, and of the IWK 250 – widely known as the best stock car race in Canada. Located in James River, between New Glasgow and Antigonish, the facility is easily accessible at exit 30 on Trans Canada Highway 104. For more information call 902.863.2410 or click www.riversidespeedway.ca.