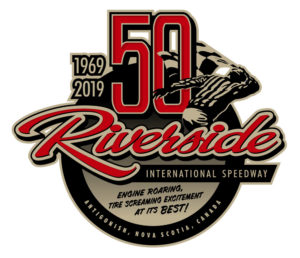 Riverside Speedway opened in 1969 under the helm of Antigonish businessman John Chisholm. It was sold in 1989 and bought back by Mr. Chisholm late in 2005, rebuilt in 2006, and rebranded Riverside International Speedway. For 50 years, the popular 1/3-mile high-banked asphalt oval has provided generations of race fans with some of the best stock car racing entertainment in North America.
It was a year-long celebration with Throwback Thursday's, our podcast 'Victory Laps', and special RIS50 merchandise. At-track celebrations saw the season officially opened with town crier James Stewart at the Triple 50s presented by Ceilidh Honda, a special RIS50 video backdrop behind Matt Minglewood at the IWK 250 Tailgate Party, the popular Rev It Up Show & Shine addition to the Bumper to Bumper 300 weekend, and the grand finale fireworks at the Lucas Oil 150.
And, in a true celebratory fashion, the track was decorated with festive flags and storyboards which paid homage to many of those who contributed to the past 50 years We hope our fans enjoyed the year as much as we enjoyed putting it together.