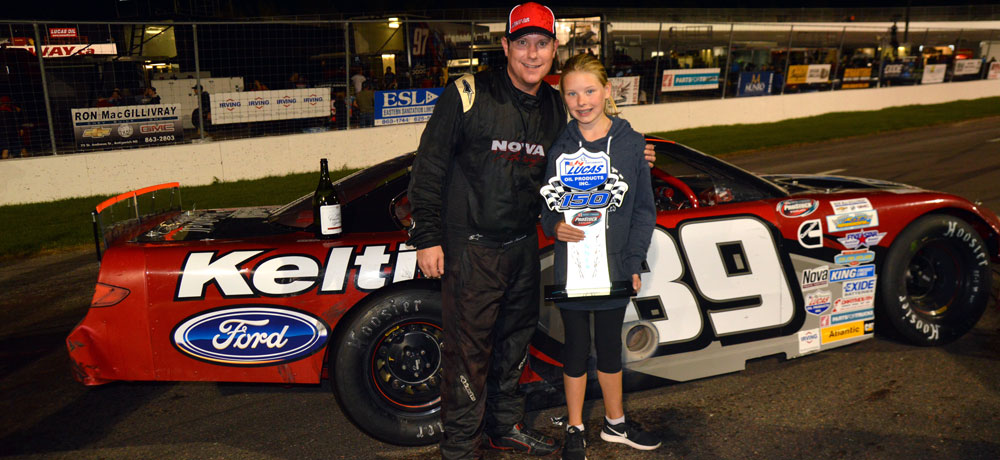 Donald Chisholm (Antigonish, NS) captured his fourth win of the last eight years in the season finale at Riverside International Speedway and third-consecutive. His victory in the Lucas Oil 150 is his first of 2017  and he earned it by leading 102 circuits of 150. Greg Proude (Springvale, PE) finished second followed by defending series champion Cole Butcher (Porter's Lake, NS). Current point leader Shawn Turple (Enfield, NS) finished fourth. Two-time NASCAR Camping World Truck Series Champion Matt Crafton finished fifth in his fourth appearance at Riverside.
Atlantic Tiltload Qualifying set the grid for the Lucas Oil 150. Craig Slaunwhite (Terence Bay, NS) earned the pole position after winning heat race one. Chisholm and Proude also won heat races. Robbie MacEwen (Charlottetown, PE) took home the Exide Batteries Rookie of the Race and King Freight Future Winner award with his sixth place run at the Lucas Oil 150. Chisholm's 102 lpas led also earned him the Linde Most Laps Led Award.
The NAPA Sportsman Series kicked off the show with their season finale R & D Performacenter 75. Kyle Reid (Fort McMurray, AB) won the race followed by Colby Smith (Cape Sable Island, NS) and Aaron Boutilier (Porter's Lake, NS) who rounded out the podium. Smith's second-place was enough to clinch the 2017 NAPA Sportsman Series Championship.
Race Results – R & D Performancenter 75
1) Chris Reid
2) Colby Smith
3) Aaron Boutilier
4) Dale Richardson
5) Darren Price
6) Dave Timmons
7) Jeffery Breen
8) Steve Matthews
9) Brad Decoste
10) Trevor King
11) Lynden Macdougal
12) Corey Breen
13) Rhyan VanOirscot
14) Daniel Delorey
15) Shawn Waterfield
16) James Sample
17) Pete Miller
18) Russel Smith JR
19) Joey Rudderham
Did not Start Kirk Ryan
NAPA Sportsman Series – Final Point Standings – Top Five
1) Colby Smith 822 points
2) Dale Richardson 805
3) Pete Miller 778
4) Darren Price 773
5) Dave Timmons 770
NAPA Sportsman Series Rookie of the Year – Ryan VanOirscot
The Parts for Trucks Pro Stock Tour will close out the season next Saturday at Scotia Speedworld. The Dartmouth Dodge 200 will decide who takes home the prestigious championship and the $10,000 cheque. Don't miss the Dartmouth Dodge 200 next Saturday, September 16 at 4:00 PM. Tickets available at the gate on race day (cash only). For complete event information and ticket prices please visit www.scotiaspeedworld.ca or www.maritimeprostocktour.com.
The Lucas Oil 150 concludes the 2017 season at Riverside International Speedway. Management would like to thank everyone who helped make it yet another season to remember. Stay tuned to www.riversidespeedway.ca during the off-season for all the latest news as we plan for 2018.