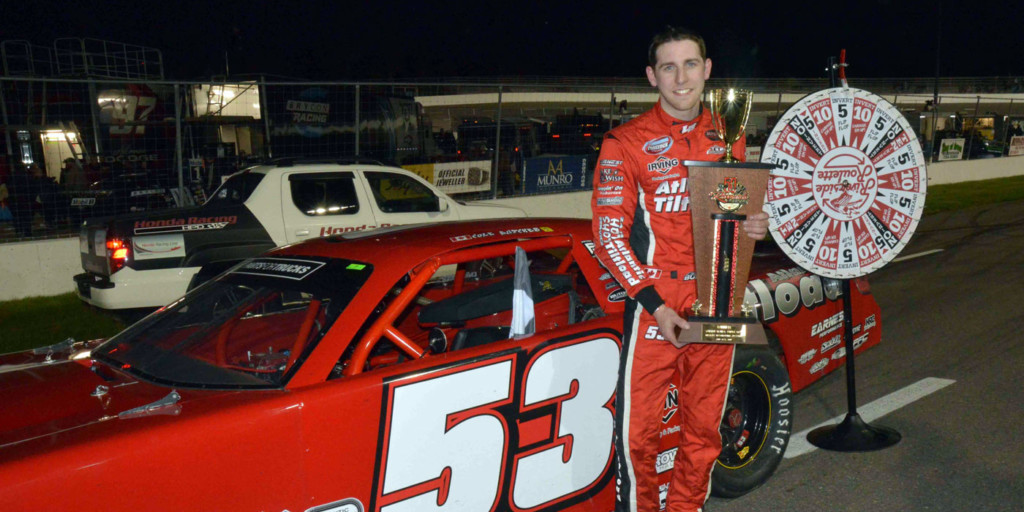 Cole Butcher with the Ceilidh Honda Triple 50s trophy and Riverside Roulette wheel (photo by Ken MacIsaac)
Cole Butcher (Hantsport, NS) picked up his first career Riverside victory Saturday evening at the Ceilidh Honda Triple 50s. The unique format provided a thrilling race for drivers and fans alike.
Greg Proude (Springvale, PE) paced the field for the first 50 laps prior to the Riverside Roulette wheel being spun which resulted in an inversion of the top five cars, placing Nicholas Naugle (Dartmouth) on the pole for the second 50 laps. Naugle proceeded to lead laps 51 – 100 when a second spin of the Riverside Roulette wheel inverted the top 10 cars placing Cole Butcher in first spot when the race resumed at lap 101; Butcher led the final 50 laps but saw his lead dwindling in the closing laps as Dylan Blenkhorn (Truro) closed the gap between first and second to a mere car length. Dylan Gosbee (Cornwall, PE) finished third with Proude and Jonathan Hicken (Brudenell, PE) rounding out the top five.
Atlantic Tiltload Heat Races set the field for the Ceilidh Honda Triple 50s. Proude, Gosbee and Shawn Pierce (Bridgewater) all picked up victories in their respective Heat Races. Ashton Tucker (Miramichi, NB) won his second Rookie of the Race award this season with a seventh-place finish. Blenkhorn took home the Kenny U-Pull Hard Charger award after picking up 12 positions during the feature. Proude, Naugle, and Butcher all tied for most laps led.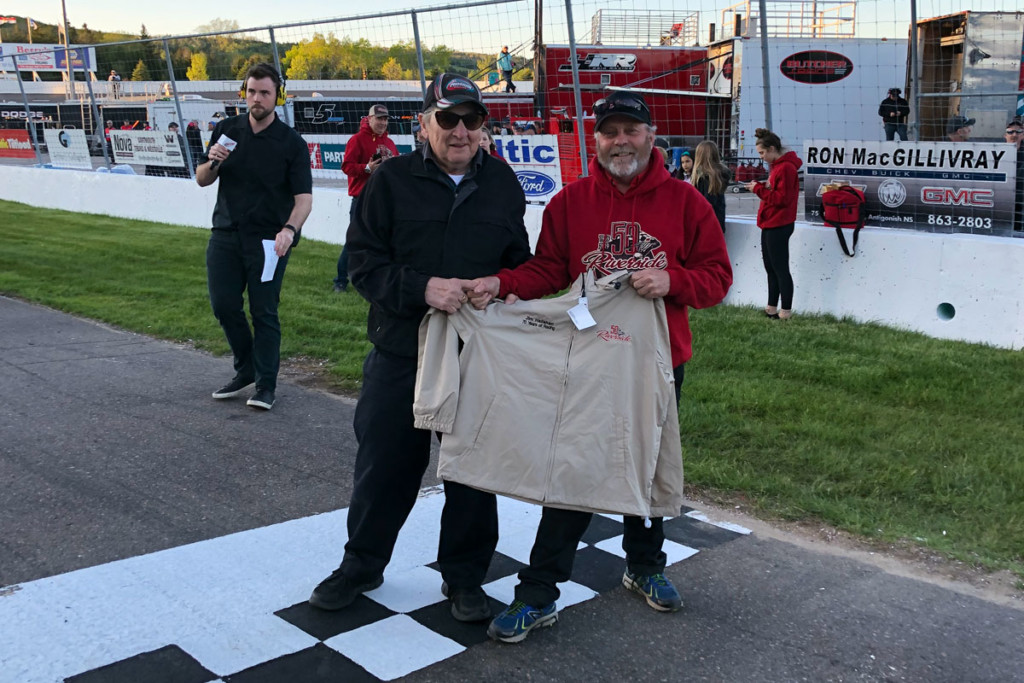 A special presentation to Jim Hallahan (left) from Riverside G.M. Paul McLean recognizing 70 years in racing.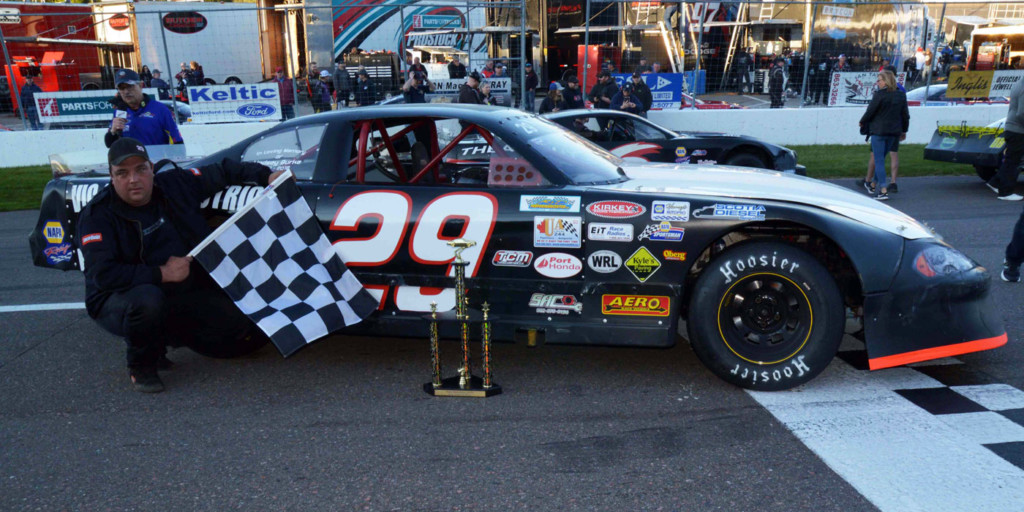 Darren Price, winner of the Henry's AUTOPRO 75 (photo by Ken MacIsaac)
The NAPA Sportsman Series entertained fans for an exciting 75 lap feature prior to the Triple 50s. Darren Price (Main-A-Dieu) took home the first victory of the season on the Series. Price had to battle Matt Vaughan (Fletcher Lake) and Brad Eddy (Lower Sackville) who finished second and third respectively. Heat race winners were Devan Smith and Darren Price.
Unofficial Results – Henry's AUTOPRO 75
Darren Price
Matt Vaughan
Brad Eddy
Pete Miller
Philip Barkhouse, Jr.
Dennis Nickerson
Corey Breen
Brad DeCoste
Brady Creamer
Daniel Delorey
Russell Smith, Jr.
Aaron Boutilier
Jeffrey Breen
Joey Livingstone
Ryan Van Oirschot
Dale Richardson
Alex Johnson
Shawn Waterfield
Joey Rudderham
Staff and management at Riverside International Speedway now turn their attention to the IWK 250 Super Weekend, kicking off Thursday, July 18 with the IWK 250 Tailgate Party featuring east coast music legend Matt Minglewood. On Friday, July 19 it's the Henry's AUTOPRO 100 for the Napa Sportsman Series and the Schooner Contracting Maritime Legends Challenge. Saturday, July 20, it's the legendary IWK 250 Presented by Steve Lewis featuring NASCAR personality and defending IWK 250 champion, Kenny Wallace. Advance tickets are available at www.RiversideSpeedway.ca.
About Ceilidh Honda: With its Automotive and Powerhouse division under one roof, Ceilidh Honda is one-stop shopping for all things Honda in Pictou and Antigonish Counties. Featuring new and pre-owned Honda vehicles as well as Honda Motorcycles, ATVs, Side by Sides, and Power Equipment the dealership priority has been to deliver exceptional customer service and develop loyal customer relationships. Its team of Honda professionals is dedicated to a positive experience in finding the product or service that suits its customers' needs. To learn more about Ceilidh Honda please visit them at 393 Westville Road in New Glasgow or online at www.celidhhonda.ca.