Sad News – Evelyna "Anne" Chisholm
We are saddened by the passing of Anne Chisholm, wife of Riverside International Speedway founder the late John Chisholm, and mother to Donald and Julie. Our deepest condolences to Donald, Julie and their families at this difficult time.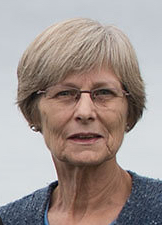 Evelyna Anne Chisholm of Harbour Centre, Antigonish, passed away peacefully at her home on June 9, 2018, at the age of 70. She was surrounded by her devoted family and friends, along with the hummingbirds she so adored.
Born in Washabuck, Cape Breton, Anne spent her life in dedication to nurturing her family, helping others, and the pursuit of higher learning. Her remarkable mind and devotion to academics earned her many achievements including the St. F.X. Silver Medal at her graduation from nursing in 1996. She gave her energy and creativity to countless volunteer endeavours, including St. Martha's Hospital Auxiliary, Scouts Canada, St. Ninian's Parish, the Antigonish Food Bank, and L'Arche Antigonish.
Anne will be forever cherished and missed by her son and daughter-in-law Donald and Kellie Chisholm, Antigonish; her daughter and son-in-law Julie Chisholm and Aly Mawji, Halifax; and the joys of her life – her grandchildren Emily, Shelby, Ryan, Nahla, Kieran, and Jasper.
She is survived by her siblings, Sandra (David) Stevens, Halifax; Alice (Bruce) Campbell, Calgary; Martina MacLean, Calgary; Joanne (Andrew) Dalton, Halifax; Theresa (Anthony) MacIsaac, Halifax; Jim MacLean, Halifax; Maureen (Darrell) MacLean-May, Calgary; and many nieces and nephews.
Anne is predeceased by her husband of 39 years, John W. Chisholm, and her parents, Josephine (LaRusic) and Joseph MacLean.
Her family is forever grateful to her caregivers and companions, along with her loyal friends who supported her so compassionately through her illness.
Cremation has taken place.  Visitation will be held Wednesday from 2 to 4 and 7 to 9 pm in C.L. Curry Funeral Home, 135 College Street, Antigonish. Funeral Mass will be held Thursday at 11:00 am in St. Ninian Cathedral, Reverend Donald MacGillivray presiding.
Burial in the parish cemetery.
In Memoriam, donations to L'Arche Antigonish, the Antigonish Food Bank, or VON Antigonish appreciated.
Online condolences:  www.clcurry.com