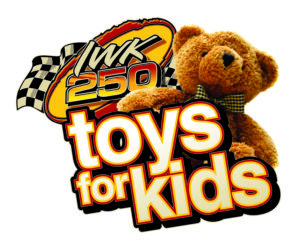 Volunteers with the Hot Rod Classics Vintage Race Car Series will host the IWK 250 Toys for Kids collection centre during the IWK 250 Super Weekend at Riverside International Speedway. The Toys for Kids area will be located close to the main grandstand entry on Friday, July 22 and Saturday, July 23 where fans will also get to see a Hot Rods Classic race car on display.
Besides gift cards that can be used to meet any need, popular and useful items include crayons, baby dolls (small size), building block sets, wireless earbuds, small diecast trucks/cars, board books, playdough, board games, card games, colouring and activity books, and small toys.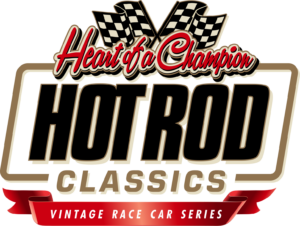 The Hot Rod Classics Vintage Race Car Series is part of Heart of a Champion, a group dedicated to preserving Maritime motorsports. Both are proud supporters of the IWK Foundation, as is Riverside International Speedway – so the collaboration between the track and the racing series is fitting.
This will be the second time the Hot Rod Classics have hosted the IWK 250 toy drive at Riverside, starting in 2019 when they also debuted the new vintage race car series. The toy drive is just one element of the IWK 250 fundraising campaign which also includes official limited supply IWK 250 merchandise, a collectible souvenir program, and more.
Riverside first partnered with the IWK Foundation in 2007 with the inception of the IWK 250 and has since donated over $516,000 and raised awareness for the Foundation and its benefactor the IWK Health Care Centre, the region's top children's hospital.
Anyone who donates an item to the Hot Rod Classics toy drive can enter to win a special Riverside swag bag.
The IWK 250 Presented by Steve Lewis is the grand finale of the IWK 250 Super Weekend. On Thursday, July 21 fans will get a sneak peek of IWK 250 competitors in a late afternoon Test'N'Tune followed by the popular IWK 250 Tailgate Party featuring Cape Breton's party band – High Society. On Friday, fans will be treated to a big night of racing with the Auto World Allstar Sportsman Series and the Cross Roads League of Legends. Saturday it's all IWK 250 with practice at 11:30, qualifying races at 3:30 followed by the autograph session and opening ceremonies. Green flag for the main event is set for 7:30 p.m.
Single-day tickets and weekend passes for the IWK 250 Super Race Weekend are available at www.riversidespeedway.ca or by visiting the Riverside office in Antigonish at the Post Road Plaza (8:30 a.m. to 4:30 p.m.). Besides a $5 savings advance tickets offer fans expedited contactless entry on race day. General admission single-day tickets will be available at the gate on race days.
Camping reservations must be made in advance for the IWK 250 Super Weekend (no drive ups) and are also available at www.riversidespeedway.ca.
The IWK 250 is a championship points race with the East Coast International Pro Stock Tour (PST), round seven of 12 for the 2022 campaign. Since its inception in 2007, the IWK 250 has helped raise awareness and more than $500,000 for the IWK Foundation.
Riverside Speedway opened in 1969 under the helm of Antigonish businessman John Chisholm. It was sold in 1989 and bought back by Mr. Chisholm late in 2005, rebuilt in 2006, and rebranded Riverside International Speedway. Still owned by the Chisholm family, the popular 1/3-mile high-banked asphalt oval has provided generations of race fans with some of the best stock car racing entertainment in North America for over 50 years.
Fans can keep up with Riverside news all year long by visiting www.RiversideSpeedway.ca, subscribing to the email newsletter, and following social media accounts on Facebook (riversidespeedwayns) and Twitter (Riverside_NS).
About Riverside International Speedway:
For over 50 years, Riverside International Speedway has been recognized as a premiere stock racing facility in Canada. The 1/3-mile high-banked asphalt oval roars to action several times a year for special events. It is the home of the IWK 250 – widely known as the best stock-car race in Canada. Located in James River between New Glasgow and Antigonish the facility is easily accessible at exit 30 on Trans Canada Highway 104. For more information please visit www.riversidespeedway.ca or call 902-863-2410.