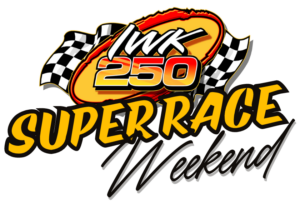 With the first phase of the IWK 250 campsite reservations completed (renewals), track management is pleased to announce the start of the second phase on March 14 by opening for new reservations.
A limited supply of campsites remains in four of the five camping sections on the 100-acre location; Section B is sold out. Both RV and tent sites are available.
Reservations can be made online and interactive – choose your site from those available on the map, complete the reservation details and payment, and receive a confirmation ticket – all in minutes.
Camping will open on Wednesday, July 12 for the IWK 250 Super Race Weekend, and close on Sunday, July 16. The rates – $75 for RVs and $40 for tents – are the same as they were in 2020, actually less since they include an extra day. HST is included.
The IWK 250 Super Race Weekend kicks off July 12 with camping opening and evening practice for Legends Cars and Sportsman competitors. On Thursday it's the IWK 250 Test'N'Tune practice followed by the IWK 250 Tailgate Party featuring High Society AND The Privateers. Friday will see Legends and Sportsman racing and on Saturday (July 15) it's the IWK 250 Presented by Steve Lewis – a bucket race list for racers and fans from all over North America.
Since 2007, the IWK 250 has raised awareness and more than $550,000 for the IWK Foundation in support of the IWK Health Care Centre, the region's largest children's hospital.