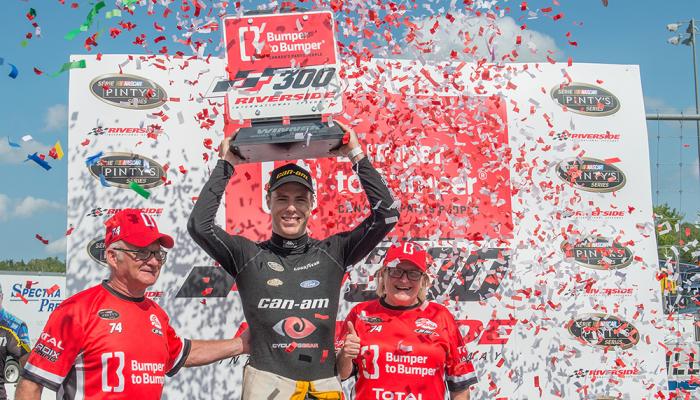 It was fitting, perhaps, that the Bumper To Bumper 300 was determined by a bumper Sunday.
Alex Labbe culminated a late charge to the finish with a bump-and-run pass on Kevin Lacroix, on the final corner of the final lap at Riverside International Speedway. This win is the fourth of the season for the Victoriaville, Quebec driver, and his first win on the high-banked third-mile oval.
Lacroix, who led the most laps and dominated throughout the entire race, still managed to finish second. In a post-race act of displeasure, Kevin Lacroix slammed into the driver's side door of Labbe's No.32 Can-Am/ Kappa Ford sending Labbe spinning and Lacroix airbourne. Following the incident, Lacroix went back to his hauler and declined to comment.
D.J Kennington who started the race from the pole after rain washed out qualifying Saturday and postponed the race a day, finished third picking up his fourth podium finish of the season.
Mark Dilley scored his best finish of 2017 in fourth. Andrew Ranger rounded out the top five finishers.
Alex Tagliani and J.F Dumoulin finished sixth and seventh, respectively. Adam Martin, Cayden Lapcevich and Donald Theetge completed the top ten.
Complete Race Results – Bumper to Bumper 300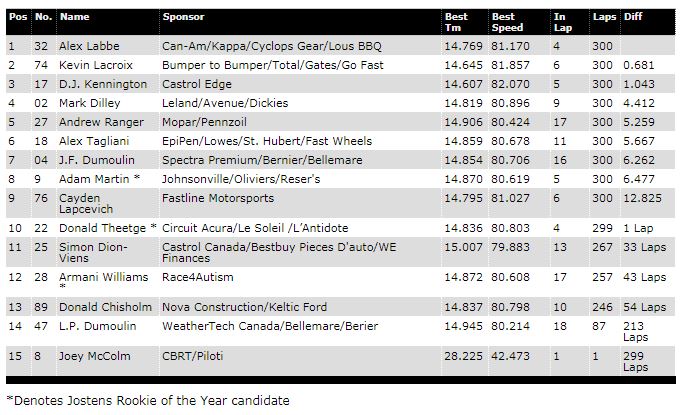 The Bumper To Bumper 300 will air on TSN on Sunday, Aug. 27 at 1:30 p.m. ET, and on RDS on Friday, Sept. 15 at 7:30 p.m.
The NASCAR Pinty's Series will be back in action Sunday, September 3rd for the Total Quartz 200 at Canadian Tire Motorsports Park.
Riverside International Speedway will conclude its 2017 season September 9 with the Lucas Oil 150, round 11 of 12 on the 2017 Parts for Trucks Pro Stock Tour.