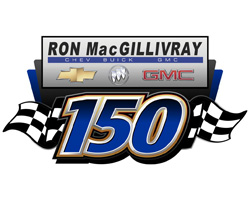 The Ron MacGillivray Chev Buick GMC 150 has been postponed until Sunday afternoon due to a forecast showing 100% chance of rain this afternoon and evening at the James River facility.
The pit gate will open for competitors at 10 a.m. and racing starts at 2 p.m. with heat races for the NAPA Sportsman Series and Parts for Trucks Pro Stock Tour followed by the R & D Performancenter Sportsman 75.
The grandstand and box office will open at Noon. Advance tickets sold for today (June 17) will be honoured on Sunday.
Event details, including an expected entry list for the Ron MacGillivray Chev Buick GMC 150, can be found here.
A complete race-day schedule for Sunday will follow.