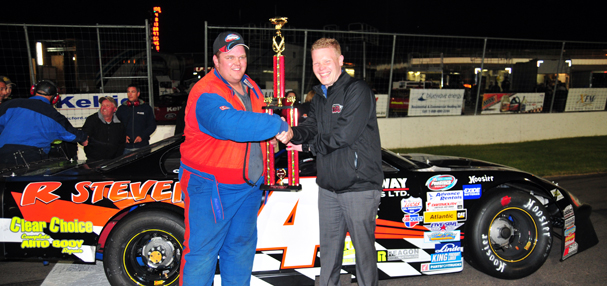 JAMES RIVER, NS (June 16, 2012) – It was a long time coming, but Mike Stevens got what he was waiting for when he visited Victory Lane at Riverside International Speedway on Saturday night after winning the Ron MacGillivray Chev Buick GMC 100. To be exact, according to Stevens – he waited one year and three-quarters – since his last win on the Parts for Trucks Pro Stock Tour. This was his first win at the historic Riverside oval.
"We just had to be patient," said Stevens, who pilots the No. 4 machine and hails from Riverview, NB. "We got a little impatient at the start of the race but our spotter calmed us down and said to save our car for the end. That's what we did and here we are."
Stevens dogged leader Donald Chisholm, from Antigonish, for most of the race, drawing to within a few car lengths several times, and got the lead on lap 84 as the two threaded through traffic. Chisholm cut a tire shortly thereafter, had to pit, and finished 20th after setting fast time in time trials and leading the most laps. PEI's Kent Vincent finished second and Maine's Cassius Clark, driving Rollie MacDonald's car, was third. New Glasgow's George Koszkulics was fourth and Halifax's John Flemming rounded out the top five finishers on the 26-car field.
It was an action-packed 100 laps with only two cautions and one red flag period necessary after a multi-car wreck on lap 17 saw PEI's Greg Proude shaken after taking a hard lick on the drivers side against the concrete retaining wall. Proude was transported to an area hospital to be checked as a precautionary measure, cleared and released later in the evening in time to return home with his crew.
Koszkulics won the hard charger award after advancing from a 15th-place start on the grid to his fourth-place finish; he felt like he had something for the top runners if not for the long 82-lap green flag run to finish the race – and a mechanical malfuntion that saw his brakes fail just past halfway.
"We got what we got," said Koszkulics. "We had a fast car but ran with no brakes the last half of the race. But I still think we'd have had something for them if we'd had a caution with 20 to go."
Clark echoed Koszkulics sentiments.
"We got mired in traffic until just past halfway," said the Maine hot shoe who has been substituting for MacDonald as the veteran Nova Scotia racer recuperates from a street vehicle accident earlier this year. "Our guys worked hard all day to get the car right but by the time we got the leaders in our sites we were running out of laps. I'm not sure we could have got by the four car (Stevens) but it would have been interesting if we'd had a late-race caution."
Stevens served notice early in the day he had a fast car setting fast pace in the second practice session of the afternoon, then winning the Dash for Cash. The heat race winners were PEI's Jonathan Hicken and Shubenacadie's Frank Fraser Jr. Steve Halpin, from Saint John NB, was the top rookie of the night with a 12th-place finish in the feature.
In Napa Sportsman Series action it was Jeff Dillman from Middle Musquodoboit picking up the win in the series season opening 50-lap feature.
Riverside International Speedway is back in action July 19-21 for the IWK 250 Super Weekend which will see one of NASCAR's brightest young stars, Joey Logano, take on the cars and stars of the Parts for Trucks Pro Stock Tour for 250 laps around the famed oval. The weekend kicks off as the Richard Petty Driving Experience visits Riverside July 19 & 20. The Napa Sportsman Series and the Maritime Legends Tour take over Friday afternoon for Friday night racing featuring the Highland Home Hardware 100 for the sportsman. Saturday July 21 will see the prestigious IWK 250 Presented by Steve Lewis Auto Body. Advance tickets and reserved camping spots are now available, and going fast. Complete event info can be found at www.riversidespeedway.ca.
About Ron MacGillivray Chev Buick GMC: Ron MacGillivray Chev Buick GMC, located on Andrews Street in Antigonish Nova Scotia, is the #1 choice for all your automotive needs. This four-time Triple Crown Award winner has been serving Eastern Nova Scotia since 1986. Ron MacGillivray Chevrolet, "A name you can count on, a team you can trust." To learn more about Ron MacGillivray Chevrolet please call 902.863.2803 or click www.ronmacgillivraychev.com.
About the Parts for Trucks Pro Stock Tour: The Parts for Trucks Pro Stock Tour (PST) is the highest level of stock car racing in Canada. The Tour is recognized in the industry as one of the healthiest stock car racing series in North America. PST visits five tracks throughout the Maritimes during its May through September season. The Parts for Trucks Pro Stock Tour is owned and operated by Maritime Pro Stock Tour Limited. For more information, call our administration office at 902.481.2531 or click www.maritimeprostocktour.com . You can also follow us on Twitter at www.twitter.com/prostocktour  and like us on Facebook at www.facebook.com/prostocktour .
Riverside International Speedway is a 1/3-mile high banked asphalt oval located in James River, between New Glasgow and Antigonish, at exit 30 off Trans Canada Highway 104. Opened in 1969, the facility was completely rebuilt in 2006 to become a premiere motorsports site comparable to the best short tracks in North America. For more information please visit www.riversidespeedway.ca or call 902.863.2410.