Photos by Ken MacIsaac. Used with permssion.,
Starting when L.P. Dumoulin broke his 40 race winless streak to start the season at Canadian Tire Motorsport Park, he has been nothing but dominant.
With five top fives in the first eight races, it's clear Dumoulin is embarking on a stand out year in the NASCAR Pinty's Series.
He continued his dream season Sunday by winning the Bumper to Bumper 300 at Riverside International Speedway.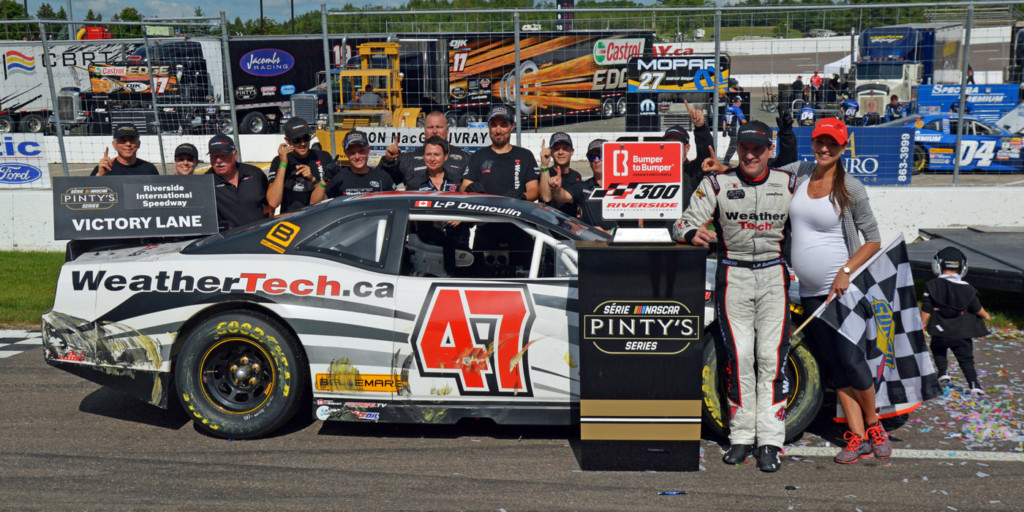 L.P. Dumoulin and team celebrate the win (photo by Ken MacIsaac)
Dumoulin's No.47 Weathertech Canada/ Bellemare Dodge used a very risky pit strategy by saving his fresh tires until the very end and mounting his attack. Surviving a hectic final restart, Dumoulin snagged the lead on Lap 240 from Kevin Lacroix and never looked back.
With his win Sunday, the 39-year-old driver from Trois-Rivieres, Quebec notched his third win of the 2018 campaign and first at the .333-mile oval and becomes the seventh different winner at Riverside since 2012.
Cole Powell entered this race fourth in points and had a great car all afternoon long. He moved into second place Lap 244, Powell mounted a charge to catch Dumoulin. Ultimately, Powell would come home second .543 seconds behind Dumoulin and notched his fourth podium of his inaugural season in the series.
DJ Kennington mounted a charge late as well and finished third for his sixth top-five finish of the season.
Bumper to Bumper 300 Race Results
Andrew Ranger and Alex Tagliani were fourth and fifth, respectively.
Peter Shepherd III finished sixth, the last car on the lead lap, and Donald Theetge came home seventh. Kevin Lacroix dominated during the middle section of the race, lapping cars left and right and leading 106 laps, and eventually finished eighth.
Former NASCAR Next driver Brandon McReynolds and J.F. Dumoulin rounded out the top 10.
NASCAR Next driver Julia Landauer made her NASCAR Pinty's Series debut and finished 15th after suffering mechanical issues on Lap 211.
Results – Bumper to Bumper 300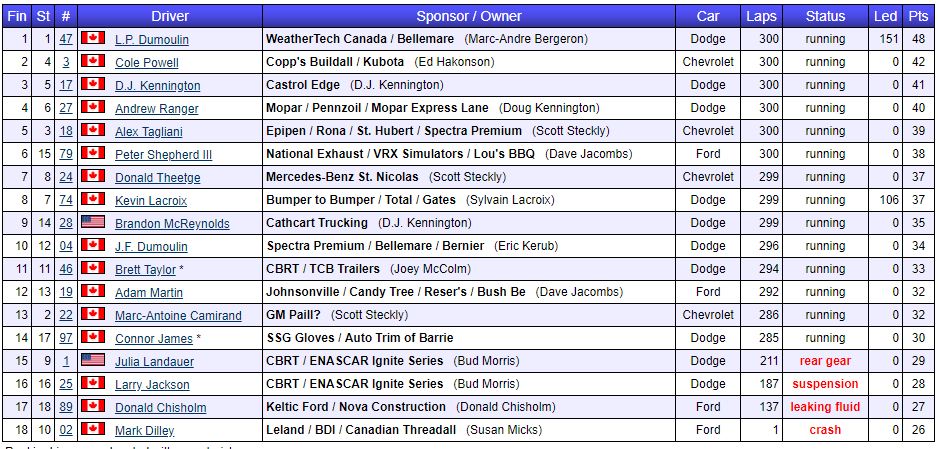 Following his win at Riverside, Dumoulin extends his points lead to 19 over Cole Powell. Tagliani sits a point behind Powell, and six in front of Camirand and seven in front of Kennington.
The Bumper to Bumper 300 will air on TSN2 on Saturday, Aug. 25 at 1:30 p.m., and on RDS2 on Tuesday, Sept. 11 at 10:30 p.m.
The NASCAR Pinty's Series rolls into Canadian Tire Motorsport Park on August 26 for the 10th round of the 2018 season with the Total Energy 200.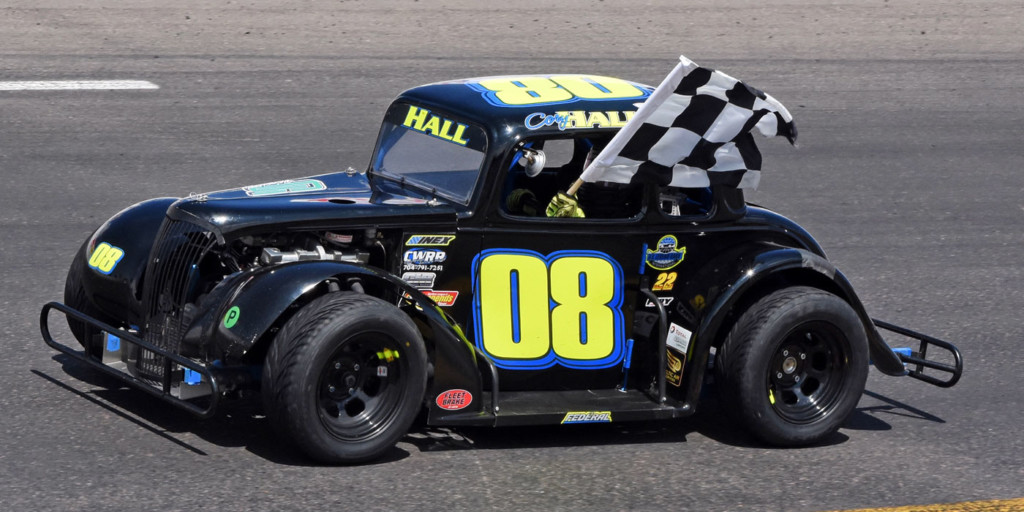 Cory Hall makes a victory lap (photo by Ken MacIsaac)
In support class action the Maritime League of Legends took to the track for the Celtic Air Services 50. It was Cory Hall taking the checkers for his third series win on the season. Rookies Austin MacDonald and Sam Rogers finished second and third, respectively. Complete results follow:
OFFICIAL FEATURE RESULTS – CELTIC AIR SERVICES 50
® – Fleet Brake Atlantic Rookie
#08 Cory Hall (NB)

#27 Austin MacDonald ® (NS)
#12 Sam Rogers ® (NS)
#75 Emily Meehan (NS)
#6 Adam Meehan (NS)
#48 Waylon Farrell (NL)
#31 Will Farrell (NL)
#7 Jeff Cruickshank (NS)
#18 Josh Langille (NS)
#36 Devin Gallant (PE)
#4 Kevin MacDonald (NS)
#28 Kyle Shipley (NS)
#53 Shelby Baker (NS)
#68 Michael Cormier (NB)
#98 Craig MacDonald (NS)
The Maritime League of Legends Tour is back in action on Saturday, August 25th at Petty International Raceway for Round Eight of Ten on the 2018 season. The 50-lap feature is a part of the 54th River Glade International and will be a part of a card that includes the Parts for Trucks Pro Stock Tour, MJS and Prime Lift East Coast Mini Stock Tour and the Leisure Days RV Bandoleros. Racing begins at 6 pm on August 25.
Riverside International Speedway will finish the 2018 season September 8 with the Lucas Oil 150 for the Parts for Trucks Pro Stock Tour, along with championship races for both the Napa Sportsman Series and the MJS/Prime Lift East Coast Mini Stock Tour. Tickets for September 8 will be available at www.RiversideSpeedway.ca starting this Wednesday.