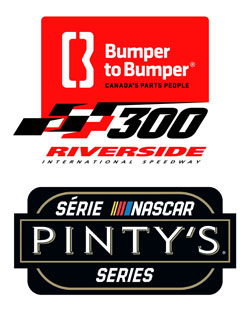 Following is the official starting lineup for the NASCAR Pinty's Series Bumper to Bumper 300 on Sunday. With the race being postponed to Sunday, qualifying was canceled and so the field was set by owner points. Take advantage of our special "Bring a Friend Free" promotion and see NASCAR on the high banks at Riverside, along with the Celtic Air Services 50 for the Maritime League of Legends.
The grandstand opens at 9 a.m., the NASCAR autograph session is at 11:20 a.m., the Legends race is at Noon, and the green flag for the Bumper to Bumper 300 is at 1:30 p.m.
And, if you visit our Facebook page, and like and share the Bring a Friend Free post you can win a 2019 season pass – contest ends at Noon Sunday.
Please ignore the date at the top of the lineup- it should read August 19, 2018…