Nicholas Naugle (Dartmouth, NS) picked up his first career Parts for Trucks Pro Stock Tour Series victory by winning the Toromont Cat 150 at Riverside International on Saturday. The race was slowed by just one caution on lap 136. Greg Proude (Springvale, PE) led every lap leading up to the singular caution but was unable to regain the lead from Naugle after the restart and finished second.
Hometown hero Donald Chisholm (Antigonish, NS) gave the locals something to cheer about with a third-place finish. Brothers Chris and Kyle Reid (Sydney, NS) rounded out the top five. The race took just 44 minutes to complete.
Results – Toromont Cat 150
Nicholas Naugle
Greg Proude
Donald Chisholm
Chris Reid
Kyle Reid
Cole Butcher
Cory Hall
John Flemming
Waylon Farrell
Austin MacDonald
Jonathan Hicken
Dylan Gosbee
Ashton Tucker
Matt Vaughan
Shawn Pierce
Gary Elliott
Ryan VanOirschot
Kent Vincent
Atlantic Tiltload Time Trials set the starting grid for the Toromont Cat 150 feature. Naugle started on the pole after winning heat race number one. Proude and Chris Reid also won their respective heat races.
The NAPA Sportsman Series warmed up the track and fans with a 50-lap feature. Jeff Breen (Antigonish, NS) was first under the checkers followed by Ronnie MacKay (Sydney, NS) and Pete Miller (Noel Rd, NS).
Results – Napa 50 Presented by Henry's Auto Pro
Jeffrey Breen
Ronnie MacKay
Pete Miller
Wayne Miller
Corey Breen
Shawn Waterfield
Darren Price
Ryan VanOirschot
Hot Rod Classics Vintage Race Car Series made their Nova Scotia debut at Riverside International Saturday afternoon. Fans enjoyed the unique vintage cars as they put on a terrific show for fans in a 20-lap feature with Cy Harvey taking the win after a hard-fought battle with Patty Lawrence. Jim Rankin was third.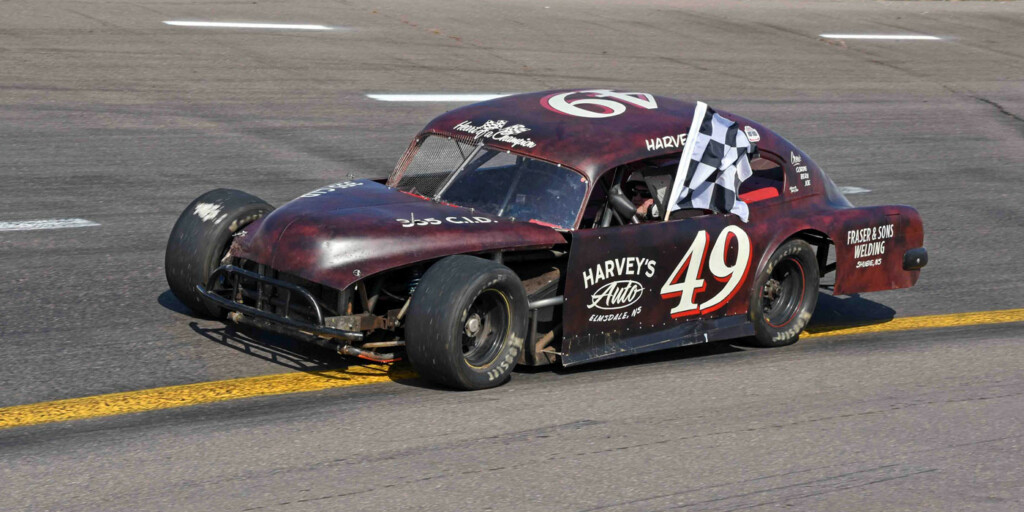 Results – Hot Rod Classics Present by NTN
Cy Harvey
Patty Lawrence
Jim Rankin
Chris Dingle
Jeff Ainslie
Today's Toromont Cat 150 was only the second event of 2020 but marks the end of the Parts for Trucks Pro Stock Tour racing season. Thank you to all of the race teams, sponsors and fans for your patience as we navigated our way through the Covid-19 pandemic. We can't wait to get back to the track for a full season of racing in 2021!
About the Parts for Trucks Pro Stock Tour:
The Parts for Trucks Pro Stock Tour (PST) is considered the highest level of stock car racing in Canada. The Tour is recognized in the industry as one of the healthiest stock car racing series in North America. PST visits four tracks throughout the Maritimes during its May through September season. The Parts for Trucks Pro Stock Tour is owned and operated by Maritime Pro Stock Tour Limited. For more information, call our administration office at 902.481.2531 or click www.maritimeprostocktour.com . You can also follow us on Twitter at www.twitter.com/prostocktour and like us on Facebook at www.facebook.com/prostocktour