IWK 250 Weekend Tickets Now Available

Tickets are now available for the IWK 250 Super Race Weekend Presented by Steve Lewis at Riverside International Speedway from July 12 to 14.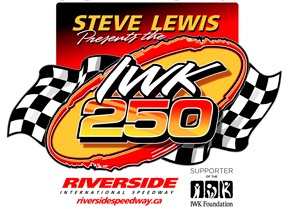 Starting June 19, fans can purchase our Weekend Pass which includes options for reserved and general admission seating. Starting June 28, fans can purchase Single Day Tickets which are available as general admission only. View our IWK 250 event page for ticket prices and seating options.
A Weekend Pass includes admission to the IWK 250 Test Fest & Tailgate Party featuring Signal Hill on Thursday, July 12, the Henry's AUTOPRO 150 and Maritime Legends Challenge on Friday, July 13, and the IWK 250 presented by Steve Lewis on Saturday, July 14 where NASCAR's Kenny Wallace will take on the best racers from the East Coast and beyond. 
Fans are reminded that all camping and/or overnight parking (RV's, tents, etc,) at Riverside International Speedway between July 11 and 15 requires an advance reservation. The main campground is full but we still have a limited number of RV sites left in the overflow camping area. If you don't have your campsite reserved yet use this form to do so ASAP.
It's more than a race…It's an event!