Management for Riverside International Speedway are thrilled to announce that North American short track racing legend Jr. Hanley will drive a replica of his famous orange #72 as an honourary pace car in this Saturday's IWK 250 Presented by Steve Lewis at Riverside International Speedway.
What makes this even more special is the car he'll drive – a custom-built replica of Hanley's famous #72, built by a longtime rival and friend, Frank Fraser (Shubenacadie) for Stacey Clements to compete with the regional Hot Rod Classics Vintage Race Car Series.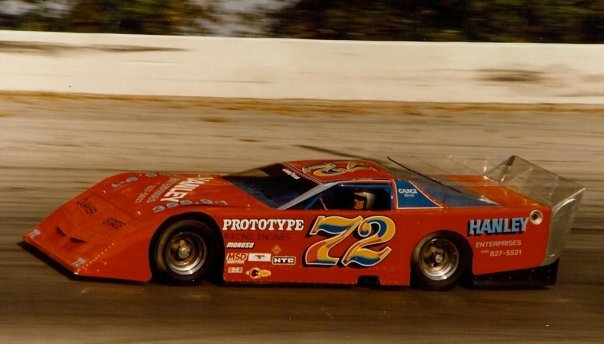 "This is such an honour," said Joan Roué, manager at Riverside. "To have Jr. here this weekend after so many years is amazing in itself, but it's off-the-charts cool to imagine we'll see him leading the field at Riverside again, and in #72. Thanks so much to Stacey Clements for his willingness to bring the car."
Hanley, a native of Nova Scotia, moved to Ontario to pursue a full-time racing career in the early 70s and worked his way to legend status among short track racers all over North America, both as a driver and master race car builder. Among numerous other accolades earned over his decades-long career, Hanley is a two-time champion of the IWK 250 (then known as the Riverside 250), in 1990 and 1991.
This will be Hanley's first visit to Riverside since the facility was totally rebuilt in 2006 and it has since held the status of one of the best short track racing facilities in North America. Many years ago, he was asked in an interview what his favourite track of all-time anywhere was; without hesitation he answered Riverside. While the facility was totally renewed when rebuilt, two things remain as they were – the 1/3-mile asphalt oval (repaved but identical) and the starter's stand.
Hanley's connection to Riverside goes all the way back to the track's opening in 1969; he was there. He was a good friend of the track founder, the late John W. Chisholm; the facility remains a family operation now owned by Donald Chisholm, John's son. For many years after he moved to Ontario, Hanley made the long haul with his #72 and competed often at Riverside. He was there for the inaugural running of the 250, in 1977 and many others after that.
Jr. Hanley raced all over North America and won some of the biggest short track races on both sides of the border. He built race cars for NASCAR greats like Darrell Waltrip, Mark Martin, Bill Elliott and many others. And since retiring from driving competitively, he continues to build and work on cars close to his home in Ontario. In fact, two of those cars have entered the IWK 250 on Saturday – Dwayne Baker and Rick Spencer-Walt.
Hanley was inducted into the Canadian Motorsports Hall of Fame in 2000 and the Maritime Motorsports Hall of Fame in 2011. His fans will have a chance to support the IWK Foundation by bidding on several photos he generously donated from his personal collection for the IWK 250 Silent Auction. They show cars made famous by Hanley over his career and each personally signed by the legend.
Close to 90 racers have entered Friday and Saturday's action including NASCAR rising star Carson Hocevar who will drive the popular Cat Car for Kids – co-sponsored by Toromont Cat and patients of the IWK Health Care Centre in Halifax – the region's top children's hospital. Complete entry lists for each division can be found at www.riversidespeedway.ca.
Fans can meet Hocevar Friday and Saturday at autograph sessions; times are published on the weekend schedule, also available at www.riversidespeedway.ca.
The IWK 250 Presented by Steve Lewis is the grand finale of the IWK 250 Super Race Weekend. It kicks off Wednesday when the day starts with camping opening and ends with a practice session for sportsman and legends teams. On Thursday fans will get a sneak peek of IWK 250 competitors in a late afternoon open practice followed by the popular IWK 250 Tailgate Party, this year featuring two of the region's top party bands – High Society AND The Privateers. On Friday, fans will be treated to a big night of racing with the Auto World Allstar Sportsman Series and the Cross Roads League of Legends. Saturday it's all IWK 250 with practice at 11:00, qualifying time trials and heat races at 3:00 p.m. followed by the autograph session and opening ceremonies. Green flag for the main event is set for 7:30 p.m.
Single-day tickets and weekend passes for the IWK 250 Super Race Weekend are available online at www.riversidespeedway.ca. Advance tickets are being offered for general admission seating and for reserved (assigned) seats. General admission single-day tickets will be available at the gate on race days.
Since its inception in 2007, IWK 250 celebrity drivers have included Aric Almirola, Marcus Ambrose, Matt Crafton, Ricky Craven, Joey Logano, Brad Keselowski, Mark Martin, David Reutimann, Mike Skinner, Regan Smith, and Kenny Wallace. Only two have won the iconic race – Smith in 2008 and Wallace in 2018. The IWK 250 historically attracts top short track stock car racers from the Maritimes, and beyond.
Winning the IWK 250 is a highlight of any driver's racing career. Not only do they take home the lion's share of the purse but see their name etched on the revered John W. Chisholm Memorial Cup along with all the others who have won the '250' at Riverside since its inception in 1977 – a who's who list of short track legends. The Cup is a tribute to the founder of Riverside and co-founder of the IWK 250, the late John "Nova" Chisholm, making it even more special.
All camping areas (including overflow) are full for this weekend at Riverside; if sites become available they can be found and reserved online at www.riversidespeedway.ca. Advance reservations are required for all campers on the IWK 250 Super Race Weekend (no drive-ups)
The IWK 250 is a championship points race with the East Coast International Pro Stock Tour (PST), round five of 11 for the 2023 campaign. Since its inception in 2007, the IWK 250 has helped raise awareness and more than $567,000 for the IWK Foundation.
About Riverside International Speedway:
For over 50 years, Riverside International Speedway has been recognized as a premiere stock racing facility in Canada. The 1/3-mile high-banked asphalt oval roars to action several times a year for special events. It is the home of the IWK 250 – widely known as the best stock-car race in Canada. Located in James River between New Glasgow and Antigonish the facility is easily accessible at exit 30 on Trans Canada Highway 104. For more information please visit www.riversidespeedway.ca or call 902-863-2410.