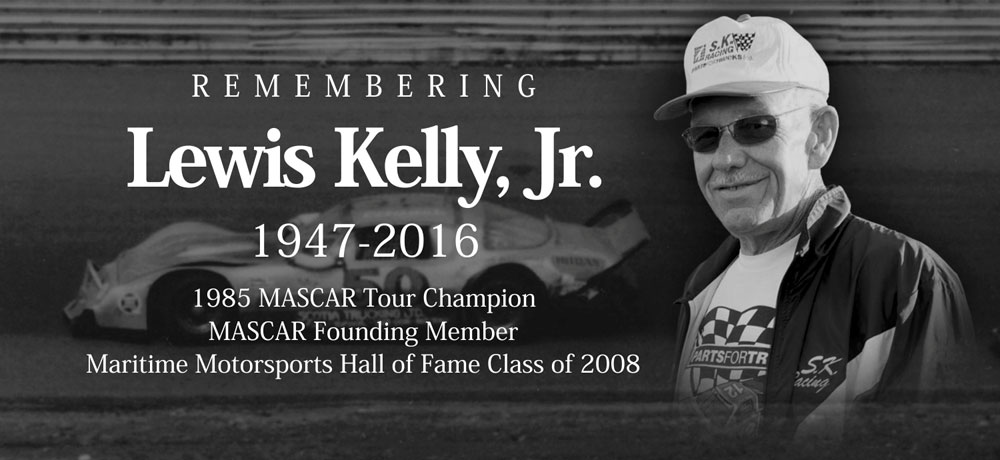 UPDATED WITH ARRANGEMENTS
Our deepest condolences to the family of Lewis Kelly, Jr., better known as Junior, who passed away Friday after a courageous battle with cancer.
Junior Kelly started racing when he was just 16 years old, driving in the street stock division at a track in Nine Mile River. He soon moved to the sportsman division when Drag City opened in his hometown of Lower Sackville (NS). After it closed he went racing at Atlantic Speedway in Hammonds Plains (NS) where he won the 1979 sportsman championship; it wasn't long before he moved to the modified division. When MASCAR was formed in 1983, he joined its ranks as a founding member. Junior was one of the drivers in the inaugural MASCAR event at Riverside Speedway on May 22, 1983. Two years later, in 1985, he won the MASCAR title.
He retired from racing cars in 1993 to field a car for his son Scott – something Junior said brought him more pleasure than did his own career behind the wheel. With Scott as the driver, they won the 1994 MASCAR Rookie of the Year title, finished third in the 1996 Oxford 250, and won the 1998 International Pro Stock Challenge title. Scott lost a courageous battle with cancer in 1999 but Junior has remained involved in racing through sponsorship and by offering knowledge gained through his years of experience to other racers.
Junior, along with his son Scott (honoured posthumously), was inducted into the Maritime Motorsports Hall of Fame in 2008.
A memorial service will be held at 11 a.m. Wednesday, March 30 at St. John Vianney RC Church followed by burial at Oakridge Memory Gardens at 12:00 p.m., and a reception at RCL Calais Branch at 12:30 p.m. (all in Lower Sackville). complete obituary