IWK 250 Competitor Registration is Open
Competitor registration for the 2018 edition of the IWK 250 presented by Steve Lewis is open.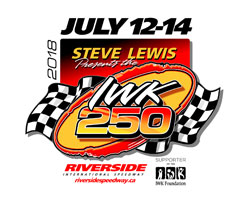 The Official Entry Form is online along with the 2018 Pro Stock Competitor Package which includes the purse, qualifying procedure, and more.
Early entry ends June 22 and offers benefits including pit parking according to when entry is received, driver bio and sponsor list in the Official Souvenir Program for the IWK 250, and discounted pit passes (must be purchased at the time entry form is submitted).
The entry fee remains at $250.00 which includes five pit passes. Additional Saturday pit passes are available at $50.00 each ($60.00 starting June 23) or two-day pit passes are $70.00 each ($90.00 starting June 23).
Competitor registration for the NAPA Sportsman Series and Maritime League of Legends for the July 13 event will open next week.
Many thanks for your continued support of Riverside International Speedway and the IWK 250.