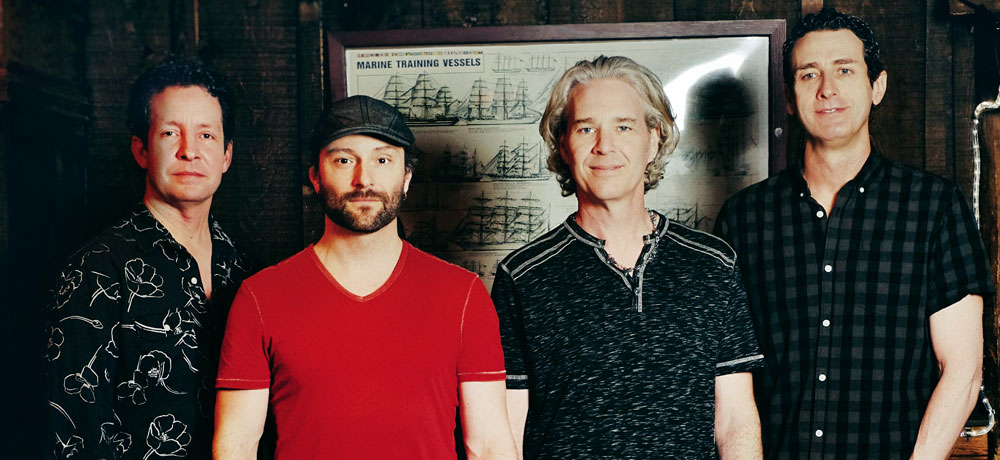 Signal Hill (photo – Signal Hill)
In just three years the IWK 250 Tailgate Party has become a tradition at the IWK 250 Super Race Weekend; Canada's east coast acoustic party band Signal Hill has been an integral part of that success. And so management at Riverside International Speedway are thrilled to announce that Signal Hill will be on hand July 12 to play the event again.
"The Tailgate Party crowd nearly doubled last year compared to 2016," said Paul McLean, general manager of Riverside International Speedway. "It's a fun, festive atmosphere where fans and competitors can socialize with each other. Signal Hill's playlist includes music that the audience can dance and sing along to. They fit right in with our 'Come for the Race; Stay for the Party' slogan for that event."
Signal Hill is a four-man acoustic rock band from St. John's, Newfoundland, now based in Halifax. Since 1991 they have toured Canada and beyond, to such places as Russia and the Dominican Republic. They are winners of the best band and best cover band several times over in a reader poll conducted by The Coast. Signal Hill has been a mainstay in the east coast music scene for years. Their formula is simple: great songs that you know and love, solid, rich, four-part vocal, and acoustic guitar arrangements, and miles and miles of energy.
The concert will be held in the track infield Thursday evening as a value-added feature for fans with an IWK 250 Weekend Pass. Tailgate Party tickets will be available for others who wish to attend. Fans of all ages can watch the concert from the main grandstand while age restrictions will apply to the stage-front licensed area.
Besides the Tailgate Party, fans who are at Riverside July 12 can see pro stock race teams practice for the IWK 250, from late afternoon through early evening. Day two of the IWK 250 Super Race Weekend is Friday, July 13 with the Henry's AUTOPRO 150 for the NAPA Sportsman Series and the Maritime Legends Challenge for the Maritime League of Legends. The weekend culminates Saturday, July 14 with the IWK 250 presented by Steve Lewis in which NASCAR celebrity driver Kenny Wallace will take on the best short track racers on the eastern seaboard.
Advance tickets for the IWK 250 weekend will be available the week of June 18. All overnight parking (RV's, tents, etc.) at Riverside over the IWK 250 weekend requires a camping permit for which reservations are required in advance. While the main campground is full, a limited number of sites are still available in the overflow section. If you haven't got your campsite yet, please complete your online reservation here.
Besides being a great race the IWK 250 helps raise awareness and funding for the IWK Health Centre with more than $450,000 donated to the IWK Foundation over the past 11 years.
The 2018 season opens June 16 at Riverside International Speedway with the Ron MacGillivray Chev Buick GMC 150 for the Parts for Trucks Pro Stock Tour and the Henry's AUTOPRO 75 for the NAPA Sportsman Series. Advance tickets for June 16 will be available in late May. There is plenty of free spectator parking for the June 16 event, along with free unreserved parking for self-contained RV's.
Riverside International Speedway is recognized throughout North America as a top stock car racing venue. Founded in 1969, the family-friendly facility boasts a 1/3-mile high banked asphalt oval which roars to action several times a year for thrilling door-handle-to-door-handle special events including the IWK 250, widely known as the most anticipated stock car race in Canada – and the Bumper to Bumper 300, eastern Canada's only NASCAR Pinty's Series event. Located in James River, between New Glasgow and Antigonish, the facility is easily accessible at exit 30 on Trans Canada Highway 104. For more information please visit www.riversidespeedway.ca or call 902-863-2410.