Tickets are now available for the IWK 250 Super Race Weekend Presented by Steve Lewis at Riverside International Speedway from July 12 to 14.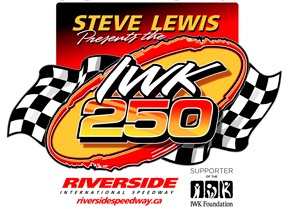 A Weekend Pass includes admission to the IWK 250 Test Fest & Tailgate Party featuring Signal Hill on Thursday, July 12, the Henry's AUTOPRO 150 and Maritime Legends Challenge on Friday, July 13, and the IWK 250 presented by Steve Lewis on Saturday, July 14 where NASCAR's Kenny Wallace will take on the best racers from the East Coast and beyond. 
Fans are reminded that purchasing tickets/weekend passes in advance offers them a discount (vs the gate price) and they will have exclusive access to the advance ticket holders only entrance. Advance tickets are available until Thursday, July 12 at 1 p.m. The mail order deadline is Thursday, July 4; after that, ticket orders will be held for pickup.
View our IWK 250 event page for ticket prices and seating options.
Anyone planning to camp at Riverside over the IWK 250 weekend who does not have a confirmed reservation is encouraged to make alternate arrangements as the track campsite is completely full.
It's more than a race…It's an event!