North American short-track racing legend Junior Hanley will be forever honoured at Riverside International Speedway with the Hanley Cup. The perpetual trophy will have the IWK 250 time trial winner's name etched on it for decades to come.
The announcement of the new award was made during Opening Ceremonies for the IWK 250 this past Saturday, with Hanley in attendance. Hanley's ties with Riverside go back to the grand opening of the facility in 1969; he was there. He was a friend of track builder/founder, the late John "Nova" Chisholm and even after he moved from his home province of Nova Scotia to Ontario in the early 70s, he returned to Riverside often.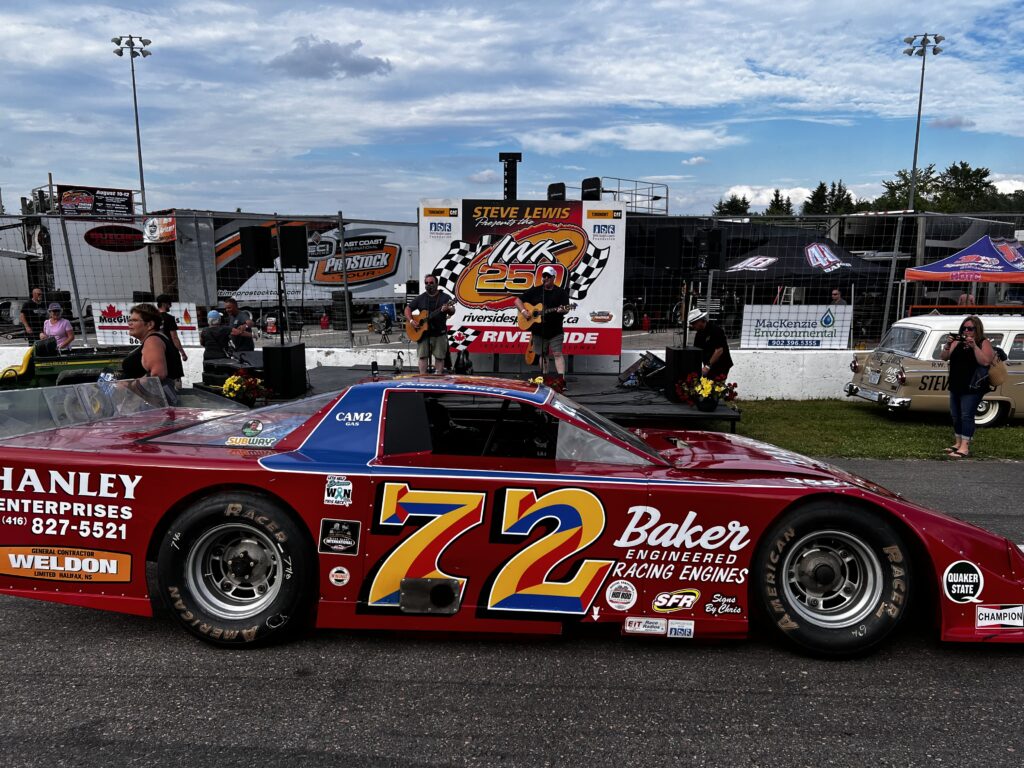 Hanley was at the very first "250" at Riverside in 1977; in fact, he set fast time in time trials that day at 14.51 seconds. Fans can enjoy video footage (with sound) of Hanley's 1977 lap below. For comparison, the fast time this year was set by NASCAR rising star Carson Hocevar at 14.364 seconds around the 1/3-mile high-banked oval – a mere 2/10 seconds faster than Hanley's 1977 lap.
Hanley moved to Ontario to pursue a racing career and went on to become one of the most respected and successful short-track racers and car builders in North America. His accomplishments in racing have been formally acknowledged with inductions on both the Canadian Motorsports Hall of Fame and the Maritime Motorsports Hall of Fame.
His trip to Riverside last weekend for the IWK 250 was his first since the track was rebuilt in 2006; the only two things that weren't changed during the rebuild were the starter stand and the track – it was repaved but maintained identical same characteristics as it was built in 1969, a scale of the original Bristol Motor Speedway in Tennessee.
During the Opening Ceremony, Hanley was also honoured as a two-time champion of the "250" along with all of the other IWK 250 champions in attendance. Dignitaries on-stage for the ceremony included Nova Scotia Premier Tim Houston and race sponsor Steve Lewis with his grandchildren – some of whom are also grandchildren of the late John "Nova" Chisholm.
And then history was made as Hanley climbed behind the wheel of a replica of his familiar #72 race car and paced the field for the IWK 250 – an absolute thrill for everyone lucky enough to witness it. Many thanks to Stacey Clements for providing his Hot Rod Classics Vintage Race Car for Hanley to drive.
The Hanley Cup will be commissioned over the off-season, along with a take-home piece for the IWK 250 time trial winner. The Hanley Cup will make its debut at the 2024 IWK 250. It will join the John W. Chisholm Memorial Cup as awards sought after by rookie and veteran racers alike.
Riverside International Speedway is back in action on August 19 with three divisions: the East Coast International Pro Stock Tour, the Cross Roads Legends Tour, and the only stop of the year in James River for the Hot Rod Classics Vintage Race Car Series. Tickets will be on sale in late July for this event at www.riversidespeedway.ca.
About Riverside International Speedway
Since 1969 Riverside International Speedway has been recognized as a premiere stock racing facility in Canada. The 1/3-mile high-banked asphalt oval roars to action several times a year for special events. It is the largest outdoor entertainment venue in eastern Canada and the home of the IWK 250 – widely known throughout North America as a "bucket list" event for racers and fans alike. Located in James River, between New Glasgow and Antigonish, the facility is easily accessible at exit 30 on Trans Canada Highway 104. For more information, please visit www.riversidespeedway.ca or call 902-863-2410 (May to September) or 902-404-7049 (October to April).