JAMES RIVER, NS – Coldstream Clear Distillery has partnered with Riverside International Speedway to present the IWK 250 Tailgate Party on July 12, day two of four for the IWK 250 Super Race Weekend. The Party will feature two of Nova Scotia's top party bands, High Society and The Privateers along with prizes and giveaways from the Coldstream promotional team. In the sixth year since being added to the IWK 250 weekend, the Tailgate Party has grown in stature every year.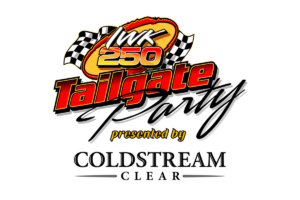 The IWK 250 Tailgate Party presented by Coldstream Clear will be an integral part of fundraising for the IWK Foundation. Riverside will donate $1 from the sale of every Coldstream Lager at the Tailgate Party and Coldstream will match it, so the total donation will be $2 per Coldstream Lager sold. Coldstream Lager was born and is brewed in Nova Scotia. Since its inception in 2007, the IWK 250 Presented by Steve Lewis has raised awareness and over $550,000 for the IWK Foundation. Numerous fundraising activities are planned to add to the total this year.
Tickets for the IWK 250 Tailgate Party Presented by Coldstream Clear are free with the advance purchase of a weekend pass for the IWK 250 Super Race Weekend. Ticket selections include weekend passes, single-day tickets, reserved and general admission, grandstand and pit – something for everyone. Prices and purchase links are on the IWK 250 Central page at www.riversidespeedway.ca.
All ages are welcome to attend the Tailgate Party but the infield licensed area is restricted to those 19 and older; those under 19 must stay in the grandstand area.
This announcement continues to add to the anticipation for the IWK 250 Super Race weekend and just a few days after introducing NASCAR rising star Carson Hocevar as the celebrity driver of the popular Cat Car for Kids in the IWK 250 and the news that the winner's share of the IWK 250 purse has been increased to a whopping $20,000 and that more than $15,000 has been added to the overall winnings being offered for the weekend, bringing its total to over $145,000.
The weekend kicks off Wednesday (July 12) when camping sections open to more than 800 RVs with reservations; later that day sportsman and legends competitors will take to the track for an open practice session. Thursday (July 13) will see an open practice for IWK 250 competitors followed by the Tailgate party. On Friday (July 14) fans will be treated to a big night of racing with the Auto World Allstar Sportsman Series and the Cross Roads League of Legends. Saturday it's all IWK 250 with practice, qualifying races, an autograph session and pre-race entertainment, opening ceremonies, and the IWK 250 Presented by Steve Lewis.
An overflow camping section is expected to open soon at www.riversidespeedway.ca to accommodate those with RVs or tents without existing reservations for the weekend. Advance reservations are required for all campers on the IWK 250 Super Race Weekend (no drive-ups).
Riverside Speedway opened in 1969 under the helm of Antigonish businessman John Chisholm. It was sold in 1989 and bought back by Mr. Chisholm late in 2005, rebuilt in 2006, and rebranded Riverside International Speedway. Still owned by the Chisholm family, the popular 1/3-mile high-banked asphalt oval has provided generations of race fans with some of the best stock car racing entertainment in North America for over 50 years.
Fans can keep up with Riverside news all year long by visiting www.RiversideSpeedway.ca, subscribing to the email newsletter, and following social media accounts on Facebook (riversidespeedwayns) and Twitter (Riverside_NS).
About Coldstream Lager
Coldstream has just released their new Coldstream Nova Scotia Lager, a labor of love for the distillery. Over the past year, Head Brewer, Rob MacIntosh, has brewed over 15 variations of the Coldstream Nova Scotia Lager. After testing numerous grains, hops, and yeasts, the Coldstream team honed their final recipe, which creates a Lager that is crisp, light, and easy drinking. From taste, design, and packaging, the Coldstream team has been dedicated to ensuring each detail has been thought of. Their brewery will feature state of the art equipment to provide you the most clear, ultra refreshing beer for any occasion.
About Riverside International Speedway
Since 1969 Riverside International Speedway has been recognized as a premiere stock racing facility in Canada. The 1/3-mile high-banked asphalt oval roars to action several times a year for special events. It is the largest outdoor entertainment venue in eastern Canada and the home of the IWK 250 – widely known throughout North America as a "bucket list" event for racers and fans alike. Located in James River, between New Glasgow and Antigonish, the facility is easily accessible at exit 30 on Trans Canada Highway 104. For more information, please visit www.riversidespeedway.ca or call 902-863-2410 (May to September) or 902-404-7049 (October to April).